Screen printing and custom t-shirt specials
We are the official retailers for Gold Coast special event merchandise such as: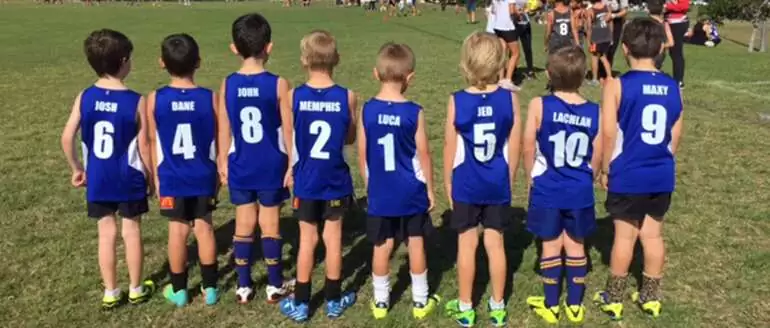 Gold Coast super cars
Love the annual super cars on the Gold Coast? Every year at the end of October, Surfers Paradise plays host to the thrills and excitement of the V8 race event. At Xpress Tees, we stock a variety of super cars memorabilia that's perfect for the motor sport enthusiast.
Gold Coast Commonwealth Games 2018
Whether you're a Gold Coast local or visiting the Gold Coast you can pick up a range of official Commonwealth Games 2018 merchandise from either of our Xpress Tees locations.
Schoolies custom t-shirt printing
Every year Surfers Paradise becomes a playground for school leavers from the southern states of Australia and Queensland. A celebration of 'schoolies'!
Schoolies is a perfect opportunity to create your very own custom singlet to commemorate schoolies week. You and your friends can make up your own matching designs and even include your name and number on them if you wish. This is your chance to create a unique design that you'll be able to wear and remember for years to come.
Gold Coast custom t-shirt printing
Celebrate your visit to the Gold Coast with one of our off the shelf designs or create your own design and have it printed while you wait. A souvenir t-shirt makes a great gift to take home to your family and/or friends. They're light and space saving to pack into a suitcase and take home with you or post overseas or within Australia.
« I definitely recommend this shop if you're in Surfers. Friendly staff who know their products and produce them to a high standard. Thanks guys! »
« I got an amazing t-shirt with the photo that I wanted on it. The staff went out of their way to look after me and my daughter and make sure we were both happy. I'll be back for sure. »
« Got same day printing with awesome service. The staff help us pick a font and a layout. »
« Got a batch of t-shirts printed for my business with my business name and logo. Outstanding quality and helpful and friendly staff. »
« My friend got a custom made t-shirt on the spot. Looks great. I'll be back for sure. »
« Great gift shop. I made gifts for family and friends and made exactly what they wanted. Incredible customer service. »
« In regards to your employee Lisa at your Harbour Town store. From the moment I walked into the shop, she was friendly, welcoming and attentive. I came in with a print request that most would've, more than likely, turn down. With enthusiasm and a great deal of initiative, Lisa happily took the job on and managed to do it with amazing results. Just wanted to express my gratitude towards her excellent customer service and creativity. She proves to be a very valuable asset to your business and well deserves some praise. Thank you and kindest regards »
« Thank You for your great service and remembering me as a customer who enquired at the Harbourtown Store. You are so helpful and I appreciate all that you've suggested & will do in getting us the best design and cost for our netball team. »
« Scott & Mayson served us tonight. Mayson was amazing with our kids. What a laugh. They loved their moustache & mono-brow – really made our night. Cool products too – I work in retail (own a Supermarket) & we got some of the best personal service I have ever had! Thanks, »
« My Mum and I dropped in to the shop during our visit to Surfers Paradise and what a wonderful experience we had. Not knowing quite what we were after, the life of the party exploded into the shop to great effect. His name is Mayson and it would seem the job was created just for him. He managed to serve about three people simultaneously in the most entertaining, efficient and charming fashion all the while amusing and creating brilliant results. We ended up with three awesome shirts. Thank you for such uniquely brilliant customer service. What an experience! »
« Got to love the service Chad and his team provides at Xpress Tees. Thanks for delivering these great tops. Our logo came out fantastic. »
« I'd just like to say how amazing your staff were this morning. They were so professional and were friendly. And considering how busy it was considering it was Xmas Eve, my T-shirt only took an hour. I didn't catch the name of your staff there, but would like to express a big thanks to the great efficient service she provided. I will definitely be back again and would highly recommend to all my family & friends. Wishing you & your staff a very Merry Xmas & a safe and Happy New Year. Warm regards »
« I ordered two t-shirts printed with my company logos from Erika yesterday. I want to compliment her on the high level of service I received. As an interior designer, I am very detail orientated. This makes some people run for the hills😉 This wasn't a problem for Erika and she was happy to make several modifications to the proof until it was right. She had really good suggestions for layout and her advice was spot on. When I arrived at the store today to pay and get the printing done with Lisa it was seamless, as Erika had taken the time to brief her of all the details. I think for the small dollar value of the t-shirts, her service standards were above and beyond what most people would expect. I'm very happy with the end result thanks to Erika. I actually ordered a third one. Hang on to her- she's a good one! Kind Regards »
« Just wanted to say thanks very much on another job well done, even more so as your staff stayed back a bit later than closing time to finish them for me. Greatly appreciated. »
« Just letting you know this was received last Friday and wanted to say a HUGE thank you. You made the day of my 4 year old niece!! Regards, »
« They are very obliging. I had a T-shirt that didn't have quite the right printing so they rectified the problem straight away. »
« I would like to compliment the young lady who served me today and provided me with a terrific couple of Tee's with logos of my son's gaming team on the front and back. Firstly, when I walked into the shop it was obvious she was under pressure with several people placing orders ahead of me. Although under pressure she remained professional, helpful and extremely competent. On top of this she was multitasking whilst making every client feel important. She had people trying on garments or emailing her logos instead of waiting whilst at the same time serving people in order, and processing jobs, all at the same time. Her efficiency and courteous manner were impressive. Because of her excellent service it motivated me to write this email / letter to let you know how lucky you are to have such an individual working for you. I have been in the service industry for over 30 years and received many service awards and she is top shelf when it comes to customer service, and attitude. To me she looked like a business owner who really cared about her clients and business. I would recommend you not lose her as an employee and feel if she makes all customers feel like I did when I left then she should be rewarded handsomely. I think she would make a great business partner. I will be coming back to your store for other items in the future and I look forward to seeing her again. »